There is no need to let hair loss change your look and rob you of your self-confidence. At Denver Hair Surgery we make it easy for you to enjoy a thick, healthy-looking head of hair. We utilize the most advanced and safest hair restoration treatments available to help you grow back your own healthy hair. Dr. McCracken develops a personalized treatment plan for each patient based on their hair texture, hair color, hairline, skin type, and baldness pattern. Often the plan includes surgical hair restoration, but there are other treatments available that assist in correcting male pattern baldness, female pattern baldness, a receding hairline, and temporal thinning. Non-surgical treatments may help in cases of early hair loss or in helping patients grow thick, healthy hair and also be used along with a hair restoration procedure to maximize results.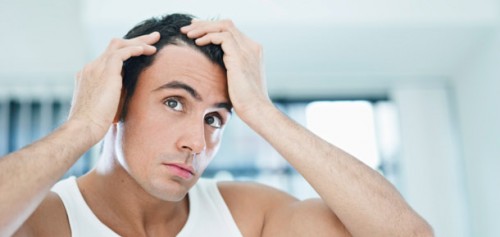 Because there are several financing options available, our hair restoration procedures can fit into virtually any budget. Some of our patients make payments of just $250 per month.
To find out what's right for you, push the "Request an appointment" button and schedule an appointment with Dr. McCracken today.
Hair Transplant Cost
At Denver Hair Surgery we treat male pattern baldness, female pattern baldness, thinning hair, and receding hairlines. We artfully transplant each individual hair using the FUE hair transplant (Follicular unit extraction) method and match the hairline and hair growth pattern giving each patient a natural-looking result. Unlike the FUT (follicular unit transplantation) method that involves using a scalpel to remove hair from a donor area and then transplant it to a balding spot, with the FUE hair transplant there is no linear scar, less little downtime. No general anesthesia is required. This makes the FUE method with NeoGraft technology the safest hair restoration surgery available. For anyone interested in hair restoration, but not interested in major surgery and the recuperation period that goes along with it, FUE is a game-changer.
The cost of a hair transplant varies based on several factors. The primary component in the cost equation is the number of hair grafts needed to create a thick, natural-looking head of hair and restore a youthful hairline. During the initial consultation, Dr. McCracken estimates the amount of hair necessary to create the desired result. Once he estimates the number of grafts needed, Dr. McCracken examines the donor area to determine the accessibility, quantity, and quality of donor hair available for transplantation. Then he evaluates the contour of the head and the hairline to determine the best sites for the transplanted hair follicles in order to yield natural-looking results. All of these factors work together to calculate the hair restoration cost. The typical hair transplant cost starts at about $7,500.
For an estimate on your hair restoration cost, schedule an appointment with Dr. McCracken today. Simply push the "Request an Appointment" button and follow the prompts.
Hair Restoration
There are several types of hair transplant procedures on the market today and at Denver Hair Surgery you will find only the safest and most effective treatments available. Dr. McCracken's background as a plastic surgeon means you will have the highest quality professional overseeing your hair restoration treatment. His top priority is listening to your needs, understanding your personal hair growth goals, and then matching them to a hair restoration treatment program that is the right fit for you.
Is the FUE (Follicular unit extraction) procedure right for me?
If you are balding or thinning or your hairline is receding, then FUE may be right for you. When performed by the artful team at Denver Hair Surgery, this procedure produces precise, permanent results. You can expect your own hair to grow back naturally. The results are not immediately noticeable but unfold gradually over time. So, after three to six months you will notice more and more hair filling in your bald spot. You will begin to look and feel younger and more confident as your hair becomes thicker and healthier. Many patients are happy to hear that the procedure does not require general anesthesia. Being awake during the procedure allows some patients to enjoy their favorite movie or music while their hair transplant procedure is being performed. Because each individual hair follicle is harvested on its own, a scalpel is not used. This means that there is no linear scar and the recovery time is minimal. Some patients even go to work the very next day.
What can I do to maximize the results of my hair restoration program?
Following hair transplant surgery, a treatment plan may include medications like finasteride and minoxidil which can both be effective in keeping hair growth healthy and maximizing the results of the transplant.
Maintaining a healthy lifestyle that includes a nutritious diet, regular exercise, consistent sleep patterns of eight hours per night, and a stress management program, will also maximize the results of your hair restoration procedure. These practices should be included in a post-care program for all cosmetic procedures.
Why is Dr. McCracken called the Denver Hair MD?
Michael McCracken earned the nickname, "Denver Hair MD" when he began treating local celebrities for their hair loss. Because these celebrities are on camera and constantly in the public eye it is vital that they have amazing and long-lasting results. Dr. McCracken is the cosmetic surgeon that they trust to deliver the look that they need to shine in the spotlight. Former Denver Bronco and television/radio sportscaster, Mark Schlereth is just one example of such a personality. Mark approached Dr. McCracken about hair restoration when his wife pointed out that his hair was thinning, and he was beginning to get a bald spot. Because Mark is constantly standing next to young athletes during his television interviews, he decided it was time to stop losing his hair and instead start growing it back. He called Dr. McCracken who developed a hair restoration treatment plan for Mark that within six months made his bald spot disappear. Mark is thrilled with the results and recommends Dr. McCracken to all of his friends and family that are experiencing a similar hair loss problem.
Dr. McCracken has a background in reconstructive and plastic surgery. He is one of the few members of the American Society of Ophthalmic Plastic and Reconstructive Surgery. His membership on this elite team is a testament to his commitment to each patient and acknowledges his mastery of the aesthetic arts. Dr. McCracken has an intuitive gift and a deft hand that maps the process of hair restoration to maximize natural-looking results that reverse male pattern baldness, female pattern baldness, and thinning hair.
To find out how Dr. McCracken can help you, click the "Request an appointment" button and schedule your consultation today.