Dr. McCracken takes the time to carefully evaluate every patient individually, to learn their concerns, and to discuss options to address their issues.
Michael McCracken, M.D. moved to Denver in 2003 after completing a three-year ophthalmology residency at the University of Illinois Chicago and a two-year fellowship in oculoplastic surgery at the University of California San Diego. As a board-certified ophthalmologist with additional specialized training in oculoplastic surgery, Dr. Michael McCracken is distinctly qualified to treat diseases and surgical needs of the eyes, problems related to the eyelids, tear ducts and eye sockets, and cosmetic concerns of the eyelids, eyebrows, and face. He is also a hair restoration surgeon that performs NeoGraft.
Dr. McCracken is among a handful of members of the American Society of Ophthalmic Plastic and Reconstructive Surgery, a highly selective society of specially trained surgeons who focus on the eyes and surrounding areas. Dr. McCracken is a fellow of the American College of Surgeons and a member of the American Academy of Cosmetic Surgery and the American Society of Hair Restoration Surgery. Dr. McCracken teaches other doctors at the annual American Academy of Ophthalmology meeting and has written a number of textbook chapters and articles on surgical and non-surgical techniques. He has received teaching awards from doctors in training at both the University of California San Diego and the University of Colorado Health Sciences Center. Dr. McCracken has lectured internationally and has also been chosen as a member of the BOTOX® and Juvéderm® National Education Faculty.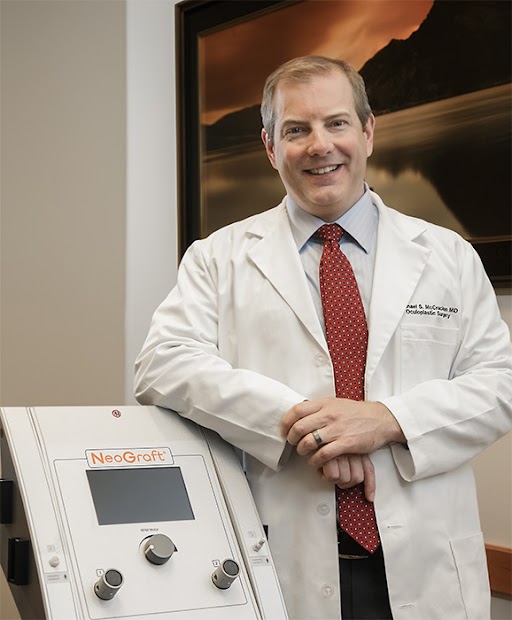 Dr. McCracken was trained in hair transplant surgery and after investigating the various methods he was convince that a procedure that would leave no linear donor scar was in the best interest of the patient. With the NeoGraft Automated Hair Transplant System Dr. McCracken feels he can provide the best aesthetic result for his patients.
Benefits of performing FUE Hair Transplant include:
No visible donor scar
Less discomfort and quicker healing
No sutures or linear scar
Faster recovery
Natural Growth
Effective for facial and eyebrows
Shortened surgery time, means saving the patient time and money.
NeoGraft is the first, and only FDA cleared follicular unit harvesting and implantation system. The NeoGraft system delivers a non-invasive, automation of the FUE technique, and is recognized as one of the most advanced technologies in the industry.
THE NEOGRAFT DIFFERENCE – NATURAL, PERMANENT RESULTS
Traditional "strip" methods of transplantation, called Follicular Unit Transplantation (FUT), require the removal of large sections of hair and skin from the back of the head. While this is the most common restoration technique, it is surgically invasive and leaves patients with a large, unsightly scar in the harvest area—typically across the back of the head. This is particularly concerning to men who prefer short styles.
Follicular Unit Extraction (FUE) is a minimally-invasive option. Older methods of FUE can be time-consuming and cost-prohibitive. Often, follicles can be damaged during transplant due to over-handling or transection.
With NeoGraft's automated FUE process, follicles are efficiently removed in a "no-touch" fashion and individually transplanted, without damage, into the thinning or balding area. Most patients experience significant results in just six to eight months.